Today I want to share with you my review of Mailchimp as an email marketing tool. I have used the free version of this autoresponder at one of my other websites for the last 2 years and lately switched to one of the paid plans.
In this review I will speak about what Mailchimp is used for, why email marketing is important for a business, the features that you get when signing up for it, pricing plans and some alternatives that might be interesting.
If you are in a hurry you can check out this short overview about Mailchimp.
Name: Mailchimp
Website: https://mailchimp.com/
Product: Email Marketing Tool
Price: $0 - $299+ per month
Sign-Up: Mailchimp Free Sign Up
Overall Ranking: 8 / 10
Without further ado, let's jump right into the full review.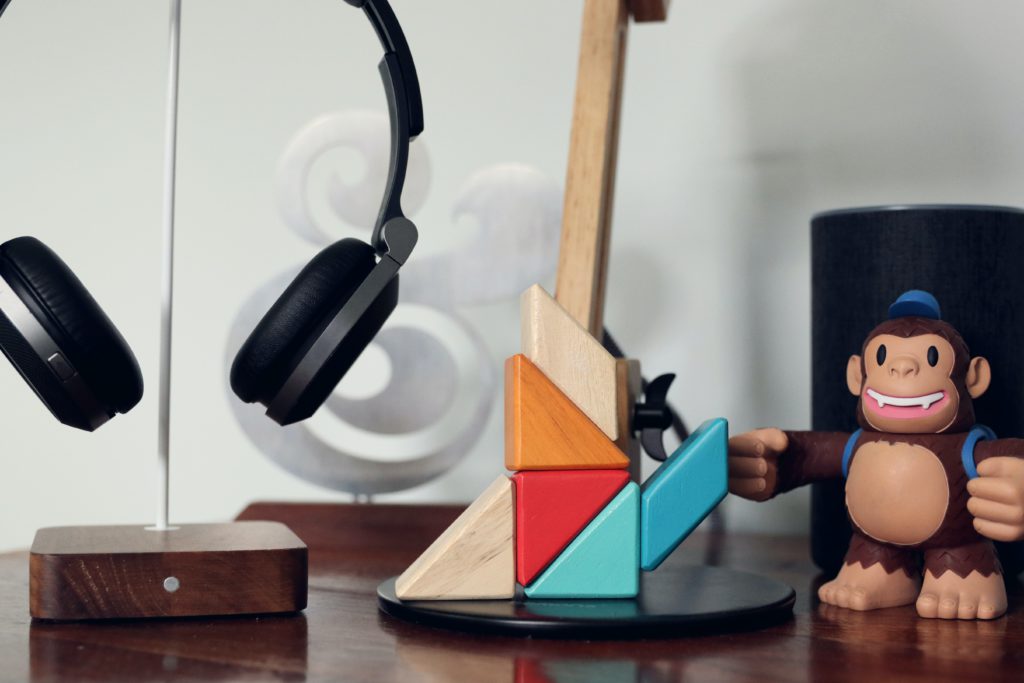 What is Mailchimp used for?
---
On its website, Mailchimp describes itself as "an all-in-one Marketing Platform for small businesses". It is known for its email marketing services. Besides this, Mailchimp can be used as an autoresponder or to build landing pages.
You can use Mailchimp to reach out or to stay in contact with your subscribers and followers. Your business might have several hundreds or thousands of customers and people you interact with and email marketing tools like Mailchimp make it easier to send emails to them.
Why is email marketing important for a business?
---
Companies can reach their audiences directly through email marketing. It is very important to stay in contact with customers and to use email marketing in order to drive sales.
Email marketing is still a great way to make people aware of a product, discounts or any other news that they should know. Having an email list with a huge number of subscribers can be very profitable for online businesses.
There are several ways to build an email list online. One way could be to collect emails via a landing page on your website, e.g. by offering a freebie which visitors can receive in exchange of leaving their email address. After this step, you can contact the new subscribers and build a relationship with them.
Nowadays, there are several services out there that can be used for email marketing. In the following lines you can read more about the features of Mailchimp.
Mailchimp Features
---
E-Mail Campaigns
Let's start with a common email campaign. In Mailchimp, you can create a simple email campaign, e.g. to inform your followers about a new blog post that you wrote.
You can choose from different standard templates, or use plain text to create your email. It's possible to send this campaign to your full email list, or also just to small segments, e.g. based on tags or groups.
Email Templates
It can be useful to create specific templates if you send out content in the same structure over and over again. There are several templates available that can be modified. Alternatively, it's also possible to create a template from scratch.
Automated Email
Mailchimp can be used also as an autoresponder. What does this mean?
Imagine you have somewhere at your website an opt-in, for example for a newsletter. As soon as someone enters their email address, this person receive an automated email from Mailchimp. These autoresponder functions are great to create welcome email sequences or more complex marketing campaigns.
Landing pages
Another feature of Mailchimp are the landing pages. You can create them to collect email addresses from your visitors. There are several free templates that can be used to make your life easier.
Please note that with the free plan, you can only create landing pages that have a Mailchimp domain, which might be not exactly what you want to do.
I did not use landing pages from Mailchimp until now, for exactly that reason. However, if you don't mind having a landing page with a Mailchimp specific domain, then this can be a useful feature for you.
Mailchimp Pricing
---
There are several pricing plans available at Mailchimp. What is great about this email marketing tool is that they offer a free plan for up to 2000 subscribers. Especially for beginners, that can be an awesome deal because it will take some time to reach those 2000 followers.
Besides the free plan, there are several paid ones. Below you can see an overview of the different pricing plans, taken from Mailchimp's website.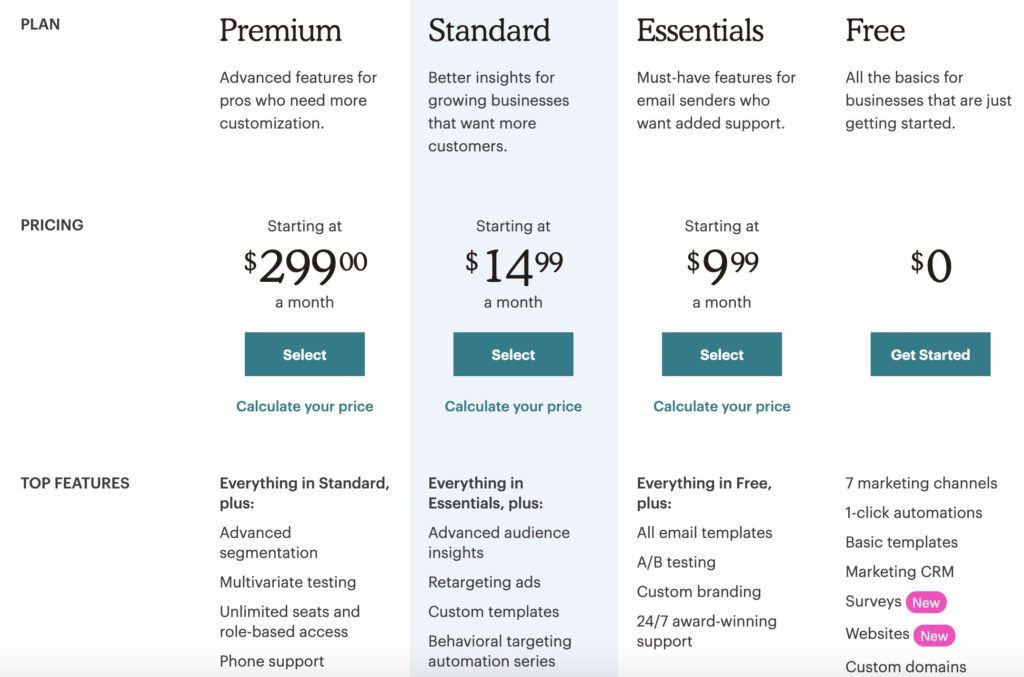 You can check out all information about the pricing and what features come with which plan here.
Can I use Mailchimp for Affiliate Marketing?
---
Now this one is very important!
Please note that Mailchimp states on their website that they do not support business models that focus on affiliate marketing, i.e. where they receive commission from a third party for generating leads or sales.
If your business is located in this niche, make sure to read Mailchimp's guidance on this topic.
Are there any Mailchimp alternatives?
---
There are several email service providers out there. Some of the bigger ones are for example AWeber, GetResponse, ConstantContact or HubSpot.
Then there are also several others like ConvertKit, MailerLite or SendInBlue.
You can check out their websites to see what prices they offer and if there is a free version included. Also, make sure to come back to my website, since I will add reviews for some of the above mentioned email marketing services soon.
Conclusion
---
Mailchimp can be a great email marketing tool and has the advantage that it offers a free plan for up to 2000 subscribers.
While some of the functionalities can be a bit challenging for beginners, there is a lot of great documentation on Mailchimp's website.
Just be careful if you are in the affiliate marketing niche and make sure to read Mailchimp's guidance on this topic, since you might not be allowed to use this email marketing service for your business.
If you still don't have an online business and you don't know where to start, make sure to check out this online training, which I used myself and which is my #1 recommendation.
---
That's it for today. I hope you enjoyed this article.
Please let me know in the comment section below if you are using Mailchimp, or if not, what is your alternative and favourite email marketing tool?
If you have any questions you can just drop me a line.
Cheers,
Dominik